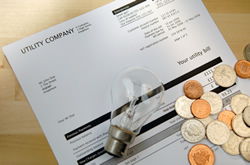 As all successful energy managers know, energy accounting is the best first step in energy management.
There are two main ways you can reduce your organization's utility costs.  You can stop being overbilled by your utility, or you can reduce the amount of energy your buildings are using.  In both cases, utility bill tracking software can help you achieve your goals of reducing utility costs.
Many large organizations pay their utility bills every month without scrutinizing their bills for errors or anomalies.  Utilities do make mistakes, and customers often pay for them unknowingly.  Utility bill tracking software can organize your utility bills and apply diagnostic tests to ensure that they are reasonable.  Some software can model your utility rates, and you can identify whether there are less expensive rates you should be using.
Before you can start saving energy, you first need to get a handle on how much energy you are using and where you are using it.  Once you have this figured out, you can set baselines against which to measure your future energy savings, and you will know which buildings to focus on first.  From the utility bills themselves, you can identify which buildings are not turning off their lights and HVAC at night (it's true…see the discussion on load factor).
Not All Energy Accounting Software is Created Equally
There are several major utility bill tracking software programs on the market. They are all extremely useful in their own way, and each of them are suited for different types of users.  Some are simple for those who just want the basics.  Some are oriented towards people with accounting backgrounds, and some are oriented towards those who want to save energy.
One size doesn't fit all when it comes to utility bill tracking
Most companies will tell you that their software is the solution for all of your problems and needs.  As one salesman told me, "The answer is always 'yes'!"  After all, their business is to sell THEIR software, not the software that is best suited for you.
The purpose of this website is to guide you towards the best utility bill accounting software for YOUR needs, not ours.  We represent several software packages, and direct you towards the right one for your needs and budget.
We know that when software customers are unhappy, they tell everyone, and this hurts credibility.  Unhappy customers are the worst, and that is why we try hard to ensure you have the right software.
Use the Software That Fits Your Needs
It is very, very important that you find the best software for your needs. If your software is too complex, your staff might not spend the time to learn how to use it properly, or may shy away from it all together. If your software is too simple, it may not give you all the information that you need to make critical energy management or accounting decisions.
We've seen million-dollar energy management software lay unused, mainly because nobody knew what to do with the data that it produced. All they knew was that the software created graphs that were very pretty to look at, but since no one understood what the graphs meant, they were useless. The net value of the software to the customer in this case was zero.
If the software is not used, it is worthless
Also, keep in mind that it's important to purchase the right software, and stick with that software. The last thing you want to do is have to transfer your data from one program to another due to the first purchase being a mistake. Transferring your data from one program to another typically costs several thousand dollars. And then you have to retrain your people.  It should be unnecessary to have to switch from one package to another.  It is best to select the best software the first time.
Start With Our Decision Guide
To help you navigate towards an optimal energy accounting solution for your organization, we have put together a guide that will assist you in determining your needs.